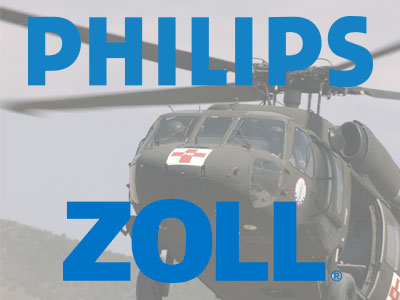 Morrisville, NC (October 07, 2014) – Philips Healthcare and Zoll Medical have both been selected to supply airworthy critical care defibrillators to the Defense Logistics Agency, a group tasked with providing superior medical equipment to American military forces worldwide. With 5-year term contracts, Zoll and Phillips may receive a maximum of $39.8 million and $27.4 million, respectively. This is not the first time these organizations have been awarded large DoD contracts as both received similar contracts back in 2009.
SunTech Medical supplies both Zoll and Philips with the Advantage ® oscillometric non-invasive blood pressure module with proprietary Transport Motion Tolerant technology. This OEM BP module is specifically designed for reliable performance in emergency transport environments such as ambulances, medical-evacuation (MEDEVAC) helicopters and other emergency military vehicles. It is SunTech's most popular OEM module platform as it quickly and easily integrates with the host system.
For a product to be considered Airworthy by the US military, it must meet the stringent Airworthiness Release (AWR) requirements from the U.S. Army's Research, Development, and Engineering Command. The certification indicates that devices are in compliance with the U.S. Department of Defense medical device certification criteria and are now certified for use aboard MEDEVAC helicopters. The U.S. Army's aeromedical testing includes electromagnetic interference and compatibility, environmental and human factors testing in the laboratory as well as in-flight assessments by engineers and medical personnel under a variety of flight conditions.
For more information on SunTech Medical's emergency transport and military capabilities or our full line of clinical-grade NIBP products and technologies, call 1.800.421.8626, email This email address is being protected from spambots. You need JavaScript enabled to view it. or visit "www.suntechmed.com/oem-nibp-technologies."
About SunTech Medical:
SunTech Medical, a Halma company, has been the preeminent supplier of clinical grade blood pressure monitoring products and technologies for nearly 30 years. Over 80 companies trust SunTech Medical's OEM non-invasive blood pressure solutions for their patient monitoring needs. SunTech Medical produces the leading cardiac stress test blood pressure monitor and is the world's foremost manufacturer of ambulatory blood pressure monitoring products. SunTech Medical also offers solutions for in-office blood pressure monitoring as well as a complete line of blood pressure cuffs designed for general and specific applications.
For more information on SunTech Medical's full line of clinical-grade non-invasive blood pressure products and technologies, call 1.800.421.8626 or visit www.suntechmed.com.
Reprint free of charge, please forward a copy.
Press contact:
Elliott Holloway
Marketing and Communications Manager
SunTech Medical Inc.
507 Airport Boulevard
Suite 117
Morrisville, NC
Tel.: 1-919-654-2366
Fax: 1-919-654-2301
E-Mail: This email address is being protected from spambots. You need JavaScript enabled to view it.
Website: www.suntechmed.com